The highe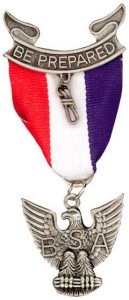 st award a young scout can achieve is to be recognized as an Eagle Scout. In order to be certified as an Eagle, a scout must first complete a specific list of requirements including Scout spirit, merit badges, and positions of responsibility. A scout is also responsible for the development and completion of a leadership service project within his school, religious institution or community.
Eagle Project:
Samuel Dengel completed his Eagle Scout Leadership Service Project in 2007 with the Ann's Choice Veteran's Group in Warminster, Pennsylvania. Before Dengel began his project, there were approximately 155 members and only 88 biography sheets, most of which were left incomplete. Working with several senior scouts, Samuel Dengel organized and led a project to bring the Ann's Choice Veterans Group membership database up to date. Dengel set up times for scouts to meet with veterans and conduct interviews, completing their military biography sheets and membership applications. Upon completion of the project, Dengel and his team interviewed more than 200 veterans over about a two month period.
All of the collected information was entered into a computer for ease of future reference and sorting purposes. All veterans were also given a special calligraphed membership card. Samuel Dengel's project received high recognition from the residents and staff at Ann's Choice. Thanks to Samuel Dengel's efforts, the Board now has access to an up-to-date database through which they can develop and organize future plans for the Ann's Choice Veterans Group.
Aside from his leadership project, Samuel Dengel met the requirements for Eagle Scout with the following merit badges and leadership positions:
Merit Badges
Camping, Canoeing, Cit. in the Comm., Cit in the Nation, Cit. in the World, Communications, Cooking, Emergency Prep., Entrepreneur, Environ. Sci., Family Life, Fingerprinting, First Aid, Fishing, Golf, Horsemanship, Personal Fitness, Personal Management, Radio, Rifle Shooting, Swimming
Scouting Leadership and Activities
Patrol Leader, Assistant Patrol Leader, Senior Patrol Leader